Contract Posting – Veg Guide Coordinator
edit
Position Type: One year contract with deliverables focused on Summer 2018
Compensation: $11,700 spread over 12-months paid according to deliverables
Application Deadline: Wednesday February 28th, 2018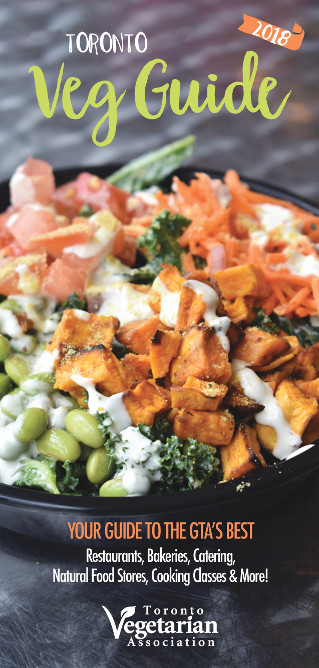 Founded in 1945, the Toronto Vegetarian Association (TVA) located at 17 Baldwin Street, Toronto, is the largest vegetarian/vegan organization in Canada. We are a registered charity; our mission is to inspire people to choose a healthier, greener, more compassionate lifestyle through plant-based eating. Our Veg Guide is a free publication that advertises over 100 veg-friendly restaurants, stores, cooking classes, and other businesses in the GTA. The Veg Guide is updated annually and distributed citywide. We also offer online listings on our website, veg.ca, as well as through our mobile app, which are both available throughout the year.
CONTRACT SUMMARY
The Veg Guide Coordinator will lead the planning and production of the 2018-2019 Veg Guide. S/he will be required to communicate with customers, stakeholders and the general public about the program. S/he will work under the direction of TVA's Executive Director, or designate, to contact prospective advertisers, coordinate ad sales, and collect copy from advertisers. A custom contact management database is used to coordinate/monitor mailings, follow-ups, and ad bookings. S/he will write communications for TVA newsletters and website to promote special offers and new businesses throughout the year. S/he will be required to also update listings in our online and mobile versions.
This contract is divided into four periods:
March – April 2018: Training and orientation; maintenance of online directory & newsletter updates; initial status report draft commenced; update of database and creation of quotes ($1,600)
May – June 2018: Initial status report delivered in May; coordination of advertising sales; directory ads created; draft Veg Guide completed; maintenance of online directory & newsletter updates ($3,800)
July – September 2018: Design and print production to meet the September deadline; submission of program report by September 30; ongoing maintenance of online directory ($3,500).
October – March 2019: Off-season Veg Guide ad sales (online) & communication updates ($2,800).
An enthusiastic, proactive vegetarian/vegan self-starter will thrive in this position. This role calls for excellent project management skills, strong communication skills (written and verbal), strong customer service skills and attention to detail, with the ability to work independently and as part of a team. Proficiency working with Mac OS X-based computer systems. Previous sales and marketing experience will be an asset.
The Veg Guide Coordinator will be required to:
Plan and carry out projects and tasks from start to finish with well-defined objectives; continuously monitor the success of these projects and tasks; and report results.
Anticipate, understand, and respond to the needs of customers to meet and exceed their expectations.
Work with Executive Director, or designate, to set objectives for communications with advertisers over the summer; and monitor progress.
Coordinate print-production using desktop publishing tools Adobe InDesign & Photoshop. Participate in planning process to improve the Guide's online & mobile presence.
Assess situations and identify problems; be creative and innovative in exploring possible solutions; check to see if a solution works; and act on opportunities for improvement.
WHO SHOULD APPLY?
A self-directed, tech-savvy vegetarian/vegan will thrive in this position. Project coordination and organizational skills will help the successful applicant meet contract objectives on schedule. Strong written & verbal communication and customer service experience will help the Veg Guide Coordinator to manage advertiser relationships and meet revenue goals. Other assets include expertise with sales and marketing or graphic design. Experience with MS Office, WordPress, databases, and email communications in a professional setting would also be beneficial.
CONTRACT RELATIONSHIPS
In performing your duties, you will be acting as an independent contractor and not an employee of the TVA.
Reports to: Executive Director, or designate, Toronto Vegetarian Association.
TO APPLY
Send your resume and cover letter to denyse@veg.ca quoting VGC18 in the subject line. Please demonstrate to us in your application how you meet the qualifications listed above.
MS Word or Adobe PDF attachments only please.
Deadline to apply is Wednesday, February 28, 2018
We thank all applicants in advance for their interest; however, only those invited to an interview will be contacted. No phone calls please. For more information please visit: http://www.veg.ca
TVA encourages applications from people representing the diverse community we serve. In accordance with the Accessibility for Ontarians with Disabilities Act (AODA), TVA will provide accommodations to job applicants with disabilities throughout the recruitment process. If you require any accommodations, please notify us and we will work with you to meet your needs.
---
Filed under: Front page post News News from the Toronto Vegetarian Association Uncategorised