2017 Veg Food Fest Bookstore Preview
edit
We know you'll be really busy eating all the delicious things at Veg Food Fest (just take a look at this year's vendors!), but when you're ready for a break make sure to check out the festival bookstore. It will be packed with a selection of veg books, including bestselling cookbooks and the latest non-fiction releases. Here are some titles to look out for at Veg Food Fest this year.
Captive
by Jo-Anne McArthur
We are thrilled to have award-winning photojournalist, educator and animal activist Jo-Anne McArthur with us at the festival this year. She is the author of 2014's We Animals, and her new book, Captive, is receiving attention and accolades from around the world. Whether you've seen her thought-provoking photography already, through her website or her Instagram, or whether you're completely new to her work, you won't want to miss Jo-Anne McArthur's photo exhibit happening all weekend long at this year's Veg Food Fest. You'll also be able to purchase copies of Jo-Anne's books at the festival.

The Sexual Politics of Meat
by Carol J.Adams
Join us at this year's Veg Food Fest as we welcome Carol J.Adams for a dynamic and challenging slideshow presentation that uses images of women and animals in contemporary popular culture to discuss oppressive attitudes. It develops and expands ideas found in the books The Sexual Politics of Meat and provides an ecofeminist analysis of the interconnected oppressions of misogyny, racism, and speciesism by exploring the way popular culture draws on dominant Western philosophical viewpoints regarding race, gender, and species. The Sexual Politics of Meat will be on sale at the festival.
Even Vegans Die: A Practical Guide to Caregiving, Acceptance, and Protecting Your Legacy of Compassion
by Carol J. Adams , Patti Breitman and Virginia Messina, foreword by Michael Greger
Even though a plant-based diet has been proven to reduce your risk for developing many diseases, veganism certainly doesn't eliminate the risk entirely. Even Vegans Die makes the point that vegans can often have a sense of invincibility. But even though the prevailing message of veganism is that it's a cure-all, vegans still can and do get sick. They can still get cancer, diabetes, and suffer from depression. And, as the book puts it, "believing that veganism is a panacea for all human ailments sets up veganism to fail."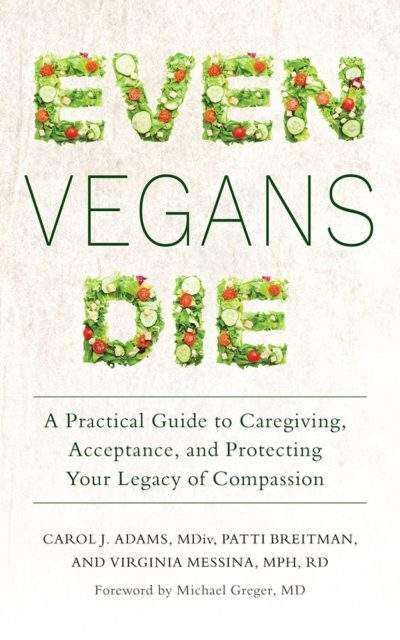 I'd never heard of disease shaming in the vegan community before reading this book, but it's a thing. The idea that people might be afraid to talk about their diagnosis because they are scared of being judged had never really occurred to me before. And vegan or not, this book has some really good advice on how to deal with learning that you have a terminal illness:
"…for vegans, there can be a sense of guilt and shame around dying–and maybe some anger over a sense of unfairness. You've lived a life of compassion and advocacy for animals. You've treated your body well, especially compared to how the average person eats. You might feel that your body has failed you, or you've failed your body."
Even Vegans Die also gives readers tips for how to help someone who is ill, like caring for their pets at home or bringing them food at the hospital (particularly if that person is vegan). You can also check with the hospital and work with staff to get some vegan options for the person. Even something as simple as cleaning their house can be such a help.
The topics covered in this book might make you uncomfortable, but avoiding them won't get you anywhere. Even Vegans Die is a really important book, whether you are vegan or not. You can pick up a copy in bookstores now or at the Veg Food Fest bookstore.
What a Fish Knows
by Jonathan Balcombe

Biologist Jonathan Balcombe will be at Veg Food Fest this year to speak about his bestselling book, What a Fish Knows. If you've ever wondered about how fish think, feel and behave, you'll want to hear Jonathan speak about his myth-busting book, which reveals some surprising facts about our underwater cousins. Pick up a copy of the book, now available in paperback, at this year's Veg Food Fest or at your local bookstore.
Vegan Love

by Maya Gottfried
In her new book, Vegan Love, author Maya Gottfried tackles some potentially sticky situations for vegans looking for love. Throughout the book, she provides insights from notable vegan women, both straight and LGTB, to help vegan readers navigate the dating world. Maya provides everything from a list of movies and books to share with your omnivore partner who perhaps has some questions about veganism, ideas for where to meet a potential cruelty-free partner, and even some suggestions for vegan-friendly date destinations. Vegan Love also has some pretty handy guides for things like shopping for clothes and makeup (vegan vs non vegan materials and ingredients to look out for). plus tips for things vegans who are sharing their home with their omnivore partner might run into.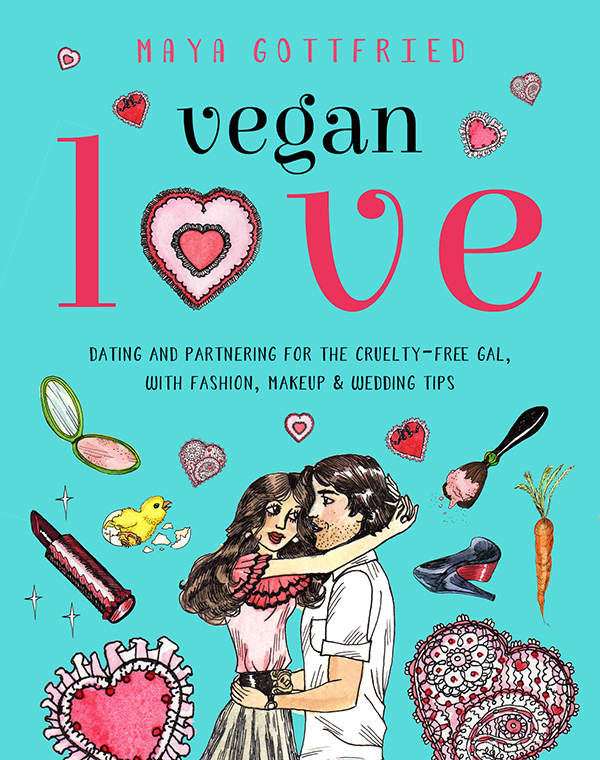 If you're getting ready to walk down the aisle, you probably already know that many elements of a wedding are traditionally not vegan, so you'll really appreciate Maya's tips for having a compassionate celebration. Vegan Love doesn't provide a formula for having the perfect relationship as a vegan, because such a formula doesn't exist. Everyone comes to veganism in their own way, and every relationship is different and has its own sets of challenges. Vegan Love is an informative book that will help you navigate romantic relationships while maintaining a cruelty-free lifestyle.
And lucky for us, Maya Gottfried is a vendor at this year's Veg Food Fest! Make sure to say hello and pick up a copy of Vegan Love at the festival.
For more information about the Veg Food Fest, visit vegfoodfest.com
---
Filed under: Front page post News News from the Toronto Vegetarian Association Toronto Veg Blog