If you are interested in any of the following positions, please click here to complete our volunteer application form in addition to any application requirements for the specific position.
Vegetarian Outreach Events – Staff the Toronto Vegetarian Association table at community events and trade shows, answering people's questions about vegetarianism, promoting a plant-based diet, and spreading the word about the resources and events TVA has to offer.
Committees and Teams – Use your skills and expertise in a variety of areas to help keep the Toronto Vegetarian Association running smoothly.
Virtual Volunteer Opportunities – If you've got a busy schedule or if you don't live in the GTA, you can still contribute to our mission to inspire people to choose a healthier, greener, more compassionate lifestyle. Check out our volunteer positions that can be done from home.
Other Volunteer Opportunities – New positions are popping up all the time! See what projects or upcoming events we have on the go and where we need some extra help right now!
Vegetarian Food Festival: Position at the 2015 Vegetarian Food Festival will be posted in early June 2015.
Make sure to sign up to receive updates about the latest volunteer postings by joining our volunteer list on the right hand side of this page.
Vegetarian Outreach Events
If you're interested in tabling for TVA at any of the following events, please email Barbi Lazarus, Donor and Volunteer Resources Coordinator, using the following template:
Name of Event:
Shift(s) Interested In:
First Time Volunteer? (yes/no) (If yes, please include your phone number)
Have you received training from TVA?
Farmers' Market at
Humber

College

North Campus

What a great opportunity to let students interested in local, healthy food know about the benefits and how-to of a vegetarian diet! Humber College has invited us to attend their market happening the first Tuesday of each month. If you could attend on TVA's behalf on Tuesday, February 24th please email volunteer@veg.ca with your availability.

The market is at 205 Humber College Blvd. (near the Hwy 27 and Finch) from 10-3.
Green Living Show
When? Friday, March 27th to Sunday March 29th
Shifts Available: Friday March 27th – 12 to 3 pm, 3 to 6 pm, 6 to 8 pm
Saturday March 28th  – 10 am to 1 pm, 1 pm to 4:30 pm, 4:30 pm to 8 pm
Sunday March 29th  – 10 am to 1:30 pm, 1:30 pm to 5 pm
Where? New location! Metro Toronto Convention Centre (255 Front Street West). A short walk west of Union Station.
Tell me more: The Green Living Show is Toronto's largest eco-show, with exhibitors from a wide range of industries including transportation, food and beverage, energy, home and garden, eco-tourism, green building and more! Lots of vegetarian vendors too! We're looking for volunteers who can help us reach our goal to double the number of Veggie Challenge sign ups this year!
Want to take your volunteering to the next level? Become an Outreach Specialist!
Description: Outreach specialists are trained and experienced volunteers in the outreach program who act as mentors to new volunteers, and lead other volunteers on their shifts, ensuring everyone is aware of the goals of the event and that all volunteers are motivated to reach those goals. They also play an important communication connecting link between staff and other volunteers, passing on messages to fellow volunteers and keeping staff informed about events they volunteer at.
Expectations/Qualifications: Outreach specialists should have strong leadership and communication skills, be outgoing and personable, and have completed at least 3 TVA outreach shifts. They are expected to volunteer at least once every two months for a 3 hour shift, although are encouraged to volunteer more frequently or take on a full day table captain shift from time to time.
Outreach specialists must complete the Online Key Messages and Programs Training, as well as a mentor shift with another outreach specialist.
Next Steps: If you're interested in taking your volunteering with TVA to the next level and becoming an outreach specialist, email volunteer@veg.ca describing your interest in the position and your experience volunteering with TVA.
**Note: If you just began volunteering with TVA and are still interested in becoming an Outreach Specialist, that's no problem! Let us know of your interest, volunteer for a couple of outreach shifts and we can chat again about becoming an outreach specialist after you've volunteered a few times.*
Committees and Teams
Cultural Diversity Team
Description:
The Association's 5-year Strategic Plan (2013-2018) has several key objectives, one of which is to "grow our membership and volunteer base to reflect the diversity of the GTA." The Cultural Diversity Team will oversee a 2-year pilot project to create new outreach tools, translate and culturally adapt education materials, develop key messaging and engagement opportunities for people currently underserved by the Association. It will work with a wide-range of community leaders, volunteers, and organizations in support of this goal.
Qualifications and Expectations:
We are looking for passionate and enthusiastic self-starters with leadership skills, who are willing to take ownership over assigned tasks. Experience in project management, knowledge translation and working with diverse cultures is an asset but not necessary. Meetings are typically 2 hours in length, and take place in downtown Toronto once a month. Team members will be expected to take on tasks in between meetings based on their skills and interest of an additional 6-8 hours per month. The Team will be looking to appoint a Chair from among its members – a terrific leadership opportunity for the right person!
To apply, please send your résumé along with a letter describing your interest in the position and any relevant skills, education or experience to: Marcella Tomas, mtomas@veg.ca
Veggie Challenge Team
Are you a tech-savy, self-starter who's passionate about inspiring people to go vegetarian? We're looking for enthusiastic people to join our Veggie Challenge team to help take the program to the next level and get more people than ever signed up to try a vegetarian for one week, and beyond!
Description: The Veggie Challenge is an online program where people sign up to try a vegetarian diet for one week. The Veggie Challenge is one of the Toronto Vegetarian Association's most impactful programs. The Veggie Challenge Team will meet bi-monthly to discuss visioning and ideas for expanding the program and tracking it's success. Examples of tasks team members may take on include maintaining the website, inputting and contacting program participants, updating content of emails, providing support and answering email inquiries from program participants, and coordinating story submissions and prizes.
Qualifications and Expectations: We are looking for passionate and enthusiastic self-starters with leadership skills, who are willing to take ownership over the projects they take on. Being tech and web-savy would be an asset. Veggie Challenge Team members should be vegetarian and all team members will be asked to sign up for the Veggie Challenge and complete the program themselves as part of the orientation. Meetings are typically 2 hours in length, and take place in downtown Toronto. Team members will be expected to take on tasks in between meetings based on their skills and interest of an additional 2-6 hours per month.
Application: To apply, please send a your résumé along with a letter describing your interest in the position and any relevant skills, education or experience to: Marcella Tomas, mtomas@veg.ca.
Fundraising and Membership Development Committee
Are you an experienced fundraiser, grant writer or membership development person? Do you thrive on developing plans, making them happen and driving results? Are you interested in helping the Toronto Vegetarian Association enhance and grow existing and new memberships?
If so, you're not alone! The Toronto Vegetarian Association's Fundraising & Membership Development Committee is looking for those who are:
1: Experienced fundraisers to help identify, apply for and manage grant proposals; research and assist in reaching out to new sources of funding including donations from foundations and those that support our work
2: Experienced membership development personnel with a background in directly driving membership growth
3. Those with an education background but little hands-on experience in the above two areas to do hands-on work with those who are more experienced.
One of our landmark activities is the Annual Food Festival in September, attracting over 35,000 people. This is a great time to join our work as we gear up to celebrate our 30th anniversary of the food festival.
Application: Please email fmd@veg.ca with the subject Fundraising and Membership Development Committee Application, with a letter outlining your interest in the committee, along with your resume.
Virtual Volunteer Opportunities
Letter Writing Team
Do you have a persuasive way with the written word? Are you motivated to respond to media articles that discuss issues you're passionate about? Then join our Letter Writing Team and help demonstrate to the public that people do care about animals, and that support for vegetarianism is on the rise. Click here to see letters recently submitted and published by members of the TVA letter writing team.
Description: When you join our letter writing team, we'll alert you to relevant articles in the paper that discuss vegetarianism in either a positive or negative light, so that you can send in your letter of praise or critique to the editor. There will never be an obligation for you to write, but the more letters sent to the editor in response to any particular article, the more likely it is that one of them will get published. Please note: As a member of the letter writing team, you agree that you will be sending in letters to the editor on your own behalf, and NOT as a representative of TVA.
Next Steps: Send an email to Barbi with the subject "Letter Writing Team" to be added to the mailing list.
Other Volunteer Opportunities
Totally Fabulous Vegan Bake-Off

The 7th Totally Fabulous Vegan Bake-Off is Sunday, March 15th.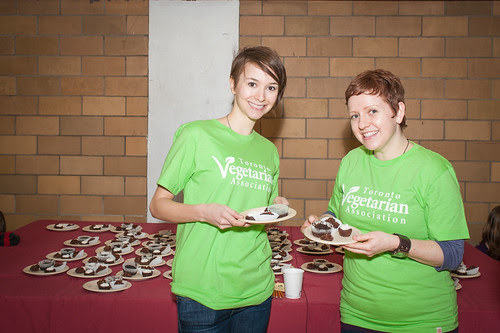 There's so many ways you can take part in this joyous and delicious event.
When? Sunday, March 15th. Event runs from 2-4:30 with volunteer positions ranging from 12:30-5:30.
Positions Available: contestant registration, door and entrance for attendees, platers and servers, bookstore and t-shirt sales, tallying votes, photographers, assisting with coat check, presentation table or soy milk stations
Where? Daniels Spectrum Cultural Hub at Dundas and Parliament.
Next Steps:
If you're interested, please send an email to
volunteer@veg.ca
with the subject "Bake-off Volunteer". In your email, please state which volunteer role(s) you're interested in and let us know what, if any, experience you have volunteering at the bake-off and/or with TVA previously.
Vegetarian Resource Centre Crew
Description: TVA's Resource Centre is a unique library and bookstore carrying Toronto's largest selection of vegetarian books and cookbooks! It's also a great place for omnivores and vegetarians to stop in for advice and information on making healthier, greener, more compassionate food choices. On top of that, it's run by a dedicated group of volunteers! We are looking for vegetarian* volunteers to staff the Resource Centre on 2-3 Wednesdays a month (6 to 9 pm).
Qualifications/Expectations: Helping customers sign books in and out, answering questions in person and via email about vegetarianism, providing personal perspective and support on vegetarian living, handling book and membership sales, assisting with ongoing maintenance of the RC including cataloging new books and magazines, re-shelving books, occasionally assisting TVA staff with office tasks and cleaning. From time to time, plan and coordinate events in the RC, such as an annual open house and bake sales.
A self-starter, quick learner and able researcher will thrive in this position. RC volunteers should be outgoing and have excellent customer service skills, and be able to both work well with others, as well as work independently and problem solve. *At least one year of experience living on a vegetarian diet (no consumption of fish, seafood, meat, chicken, game, fowl, or other flesh) is required for this position.
Next Steps: If you're interested in this position, please send your resume and cover letter to Angeline Judge, Resource Centre Chair, at tvarcchair@gmail.com, with the subject Resource Centre Application.
Outreach Set Up and Tear Down Team
Do you want more people in the GTA to learn about the benefits of a vegetarian diet? Do you want to see more people sign up for the Veggie Challenge and Meatless Mondays? And, do you have a car and a few hours to spare each month?
Then join our Set Up and Tear Down Crew for outreach events! Toronto is jam packed with events over the summer months and there's so many opportunities for TVA to be present. But we can only be there with the help of a driver to transport our materials to and from the TVA office to these great community events.
Description: We're looking for new people to join our team and help out at an event or two each month this summer season. The role involves picking up materials from the TVA office at a time that's convenient for you, transporting them to the event on the actual day of the event and setting up the TVA table.
Alternatively, it can be done in the reverse! You can do a tear down shift where you'd pack up the materials at the end of an event, and bring them back to the TVA office at a time that's convenient for you.
Members of our set up and tear down crew receive a FREE TVA discount card, offering savings at over 80 veg-friendly businesses in the GTA.
Application: Please email Barbi Lazarus with the subject Set Up and Tear Down Team.
Office Help Team
Description: We are always looking for new members of our Office Help Team. The behind the scenes work that is necessary to make our attendance at outreach events possible is critical to us getting our message out to the public. Examples of tasks may be making phone calls to thank new members, applying TVA stickers to literature we distribute at outreach events, and stuffing and mailing envelopes.

Expectations/qualifications: Requests for assistance in the TVA office are sent out to the list as required. Requests may be sent out well in advance, but more often than not are fairly last minute (the week of). Volunteers can take us up on the offer or decline according to their availability. This position is particularly well suited to volunteers available during regular business hours, although some evening opportunities will come about as well.

Next steps: To join the Office Help Team, email Barbi Lazarus at blazarus@veg.ca, with the email subject "Office Help Team".
Vegetarian Directory Distributors
TVA's vegetarian directory is the most comprehensive listing of vegetarian and veg-friendly businesses in Toronto. Help us get these directories in as many places as possible so that it's easy for people to find green, healthy and compassionate food options!Description: Directory distributors pick up directories from the TVA office (we can also arrange for delivery if necessary), and distribute them to local retailers, businesses and community centres in their neighbourhoods. Distributors also re-stock these locations throughout the year as needed, ideally every two to three weeks.Qualifications/Expectations: Volunteers are expected to follow up with the Volunteer Coordinator once a month with an update on the status of distribution in their area (i.e where they've been distributing to, how many directories have gone out, etc.). While some locations require re-stocking more frequently than others, the general expectation is that you will check in on your area once every few weeks as needed.Where? We are in need of volunteers to sign up for a variety of locations. You can let us know you're neighbourhood and we'll let you know what's needed nearby. Some neighbourhoods we are specifically in need of help in are:
Kensington Market
Cabbagetown
Bloor/Yonge/Yorkville
Scarborough
St. Clair/Eglinton West
Mississauga
York University Keele Campus
Next Steps: Please contact Barbi Lazarus, providing your name, email address and the location you are interested in.
Volunteer Gift Recruiter
Are you sales savvy? Like talking to people and building relationships?
Description: We're looking for a couple of people to help build an inventory of gifts for volunteers by approaching local businesses and asking for donations on behalf of TVA. A sample letter signed by TVA and talking points will be provided.
Expectations/qualifications: Sales or marketing experience would be a definite asset. We will provide a list of businesses to approach, but we're looking for someone who can take ownership and initiative with this project, approaching the businesses and following up. The expected time commitment is a couple of hours per week for the next month or so, until the inventory is developed.
Next Steps: Please contact Barbi Lazarus with the subject "Gift Recruiter".
Host a vegan bake sale
Raise money for your cause of choice (we're hoping that'll be us!)
Promote delicious, cruelty-free food
Be part of a fun, global event that helps people, animals and the planet!
Sign up today to host your own vegan bake sale during the week of April 26th to May 4th! We've got tips to help you find a venue, we can promote your bake sale to our networks, and we'll give you the option to order any free literature you might want to give out like veg directories or recipe booklets. Just send us a quick email to volunteer@veg.ca saying you'd like to hold a bake sale and we'll send you tips and other helpful info!
DIY Fundraising
Description: This is your chance to help TVA raise funds so that we can build our capacity and have a greater impact! While the Toronto Vegetarian Association is a grassroots organization that relies on the support of hundreds of volunteers, we also require funds to put our programs into action. Volunteers are always welcome to organize their own fundraising events, such as bake sales, walkathons, pot lucks, car washes or whatever your creative mind devises!
Next Steps: Click here to download our DIY Fundraising Kit with tips and instructions for getting started on organizing your very own fundraising event for TVA.